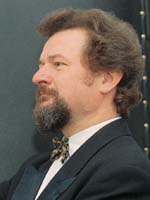 Born in Krakow, he studied at the Krakow Academy of Music (with Prof. Zbigniew Szlezer) and graduated with honours. A prize-winner in international competitions (including the Paganini Competition in Genoa). For some time he was concert master of the Polish Radio and Television Orchestra in Krakow. Since 1983 he has played with the Berlin Philharmonic, where he is principal concert master and soloist (since 1986). With the orchestra he has played, among other works, Prokofiev's Violin Concerto No. 1, Kurt Weill's Violin Concerto and the 1st Violin Concerto by Szymanowski, whose music he popularizes throughout the world as a soloist and chamber musician. This last concert met with great success in the Royal Festival Hall in London and in Madrid (performed with the London Philharmonic Orchestra. In June 2000 the artist and the Berlin Philharmonic performed Mozart's Violin Concerto No. 1 in D Major.
Daniel Stabrawa is also leader of the Philharmonia Quartett Berlin, a string quartet which has rapidly gained worldwide recognition and appears in the most prestigious music centres. Critics number the group among the world elite in its category and regard it as an artistic standard for quartets. The ensemble has recorded numerous award-winning albums (including the German Critics' Award).
Daniel Stabrawa performs regularly as a soloist with orchestras, from Scandinavia to South America, and gives recitals in leading music venues. Recently he has made a debut as a conductor. Since 1995 he has been leader of the chamber orchestra Capella Bydgostiensis, with which he has given concerts (Switzerland) and made several recordings for CD Accord and Cavalli-Records.