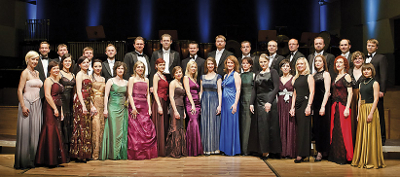 The NFM Wrocław Philharmonic Choir was founded in 2006 by Andrzej Kosendiak and since its inception functions under the directorship of Agnieszka Franków-Żelazny. In a short space of time it has established itself as one of Poland's leading choral ensembles, thanks to its rich and varied repertoire, which includes works from the Renaissance to the contemporary, a cappella to vocal-instrumental (oratorios, operas and symphonies). It has collaborated with such distinguished conductors as Paul McCreesh, Jacek Kaspszyk, Krzysztof Penderecki, James MacMillan, Łukasz Borowicz, Mike Brewer, Bob Chilcott and Jan Łukaszewski.
In recent years the Choir has participated in many important projects, collaborating among others with the Gabrieli Consort and NDR Orchestra in performances at the Salle Pleyel in Paris and the Barbican Centre in London as well as the Schleswig-Holstein Music Festival and Gent Festival van Vlaanderen. In 2009 it was the first Polish choir invited to the legendary BBC Proms Festival at the Royal Albert Hall for a performance of Joseph Haydn's The Creation. This was followed by a further invitation in 2011 when the Choir joined forces with the Gabrieli Consort and singers singers of such stature as Simon Keenleyside in a presentation of Felix Mendelssohn's Elijah. The same year it made its debut at Leipzig's Gewandhaus while at the Varaždin Baroque Evenings festival in Croatia it received one of the three main awards – the Kantor Award for exceptional performance of works by Johann Sebastian Bach.
In Poland the NFM Wrocław Philharmonic Choir performs in concert with among others, the Wrocław Philharmonic Orchestra, Wrocław Baroque Orchestra, National Polish Radio Symphony Orchestra, the Łódź and Kalisz Philharmonic orchestras as well as Wrocław Opera. Each year it also appears at the International Wratislavia Cantans Festival.
The ensemble has participated in recordings of Franz Xaver Richter's compositions under the baton of Andrzej Kosendiak (2009), Hanna Kulenty's Music 4 album with Wrocław's Leopoldinum Chamber Orchestra under Ernst Kovacic (2011) and Hector Berlioz's monumental Grande Messe des Morts under Paul McCreesh (2011). It also features on a recording of Mendelssohn's Elijah and an album of works by Bob Chilcott to be released in 2012.