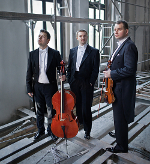 Founded in December 2008, BMF Piano Trio have been considered one of the most interesting chamber ensembles of the young generation since the winning of the International Chamber Music Competition in Thessaloniki (2010) and the St Martin's Chamber Music Competition under the patronage of Sir Neville Marriner in London (2011).
Among those who have had the greatest impact on the style and aesthetic value of the Trio's music are such renowned artists as Stephen Kovacevich, Raphaël Pidoux (Trio Wanderer), Andrzej Bauer, Ewa Pobłocka, Paweł Radziński, Maja Nosowska, Vadim Brodski, Jan Stanienda, Marcin Sikorski, or Piotr Janosik (the Silesian String Quartet).
BMF Piano Trio's extensive repertoire includes the finest works of chamber music, from Haydn to 21st-century music, with special focus on 20th-century Polish music. The Trio have acquired their excellent reputation both with the public as well as among many critics by appearing in major Polish chamber music festivals and by performing abroad, in Great Britain, Austria, Greece and the Czech Republic.
In 2011 BMF Piano Trio were awarded a scholarship to participate in the International Dartington Summer School in England, and in 2012 they were also among the beneficiaries of the 9th "Young Poland" Scholarship Programme of the Minister of Culture and National Heritage.