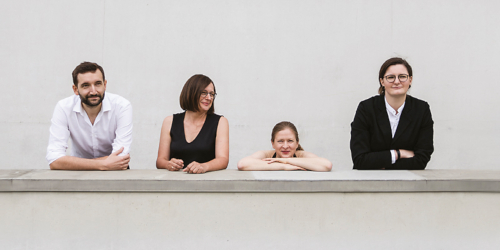 Arte dei Suonatori
Piano Quartet
The most recognisable Polish ensemble on the international music scene, performing the music of past eras in a historically informed manner. After years of joint and individual experience, the musicians' artistic search focuses on a constant exploration of the core of the musical language of composers of past eras, which, combined with historical instruments, has led to the creation of a style that is both historical, modern and thoroughly individual. This way of understanding music helps them build cooperation with performers who look at creating musical narration from a similar perspective. Their meeting with pianist Katarzyna Drogosz has resulted in establishing a piano quartet from among the members of the orchestra. The repertoire of this ensemble includes great works from the classical and romantic periods, also reviving the splendour of forgotten chamber works by Polish composers.
Over 25 years in operation Arte dei Suonatori have recorded and released 16 albums produced by renowned record companies (including BIS Records, Alpha, Channel Classics), distinguished by international music critics with awards such as Gramophone Award (Recording of the Year: Concerto in 2003 for Vivaldi's Violin Concerti "La Stravaganza"), Diapason d'Or (Müthel's The Five Keyboard Concertos), Diapason 5 and Choc du Monde de la Musique, Luister 10, 10 de Répertoire, Classics Today, Classic CD, Tokkata-Alte Musik aktuell: "CD des Monats" (wielokrotnie), Monthly Choice and Editor's Choice of the BBC Music Magazine, Classic FM Magazine awards, Prelude Classical Music Awards 2009 (The Best Orchestral CD for Handel's 12 Concerti grossi op. 6), Télérama ffff.
The group is very busy giving concerts in Poland, Europe as well as the United States and China. Arte dei Suonatori has also made numerous recordings for many radio stations, including the BBC, Danmarks Radio (DR), SWR, Polish Radio Programme II and television recordings for the French station Mezzo, as well as TVP3, TVP Kultura, TVP1.