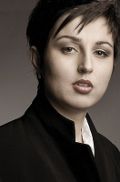 Agnieszka Franków-Żelazny
The artist studied at Wrocław Academy of Music, graduating with an honours degree in choral conduct­ing from the Musical Education Department (2004) and in singing from the Vocal Department (2006). She then took up postgraduate studies for choirmasters at the Academy of Music in Bydgoszcz. She had also studied biology at Wrocław University (2000). Her adventure with choral music began in the Mixed Choir of the Grammar School in Głubczyce, where she sang. In 1993-99 she was a member of the Polish-German Choral Academy In Terra Pax, where in 1997-99 she acted as voice instructor. In 1999 she founded the Con Amore Choir of School Complex No. 1 in Wrocław, with which she won distinctions at the National Choral Competition in Bydgoszcz (2000, 2001). In 2000 she initiated the Chamber Choir of the Medical Academy in Wrocław, and with this choir she continues to score numerous successes in competitions in Poland and abroad. Since June 2006, Franków-Żelazny has held the post of artistic director of Wrocław Philharmonic Choir.
The artist has appeared as choirmaster or guest conductor with such ensembles as: Silesian Philharmonic Choir, Gabrieli Consort, Wrocław Philharmonic Symphony Orchestra, Wrocław Soloists' Ensemble Ricordanza, Chamber Orchestra of the Academy of Music in Wrocław, Wratislavia Cantans Festival Choir, Chor der Bamberger Symphoniker, Schleswig-Holstein Festival Choir. She has received several awards in choral and conducting competitions. In 2004, she won the 1st prize in the 10th National Competition for Choirmasters in Poznań, where she also took the special awards for best methods of work with a choir and best methods of work on vocal technique. She has also been awarded several prizes for the best conductor, e.g. in the National Choir Tournament "Legnica Cantat" (2004, 2006, 2008, 2010) and the International Choir Festival "Gaude Cantem" (2006, 2010). In 2004 she represented Wrocław Academy of Music as its best student in the Best Student Competition Primus Inter Pares and won the 1st prize on the regional level. For her outstanding contribution to the artistic development of Wrocław Philharmonic Choir and the Chamber Choir of the Medical Academy in Wrocław, she was granted the Wrocław City Music Award in 2010. In January 2012 she was awarded "Person of the Year 2011" in the category of culture by tuWroclaw.com users.
Apart from work with choirs, Agnieszka Franków-Żelazny has also been engaged in teaching activities. As an assistant professor with a Doctor of Arts degree, she teaches a conducting class and leads the Stanisław Krukowski Choir at Wrocław Academy of Music. She has also taken part in numerous conducting seminars and courses and is frequently invited as vocal consultant to conduct workshops for choirmasters and choral ensembles.