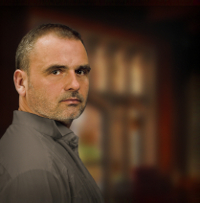 The artist completed vocal studies with Jerzy Artysz at the Fryderyk Chopin Academy (now – University) of Music in Warsaw (1991). He further developed his abilities as a singer with Paul Esswood and Jadwiga Rappé. He won the 1st prize for the best counter-tenor – the Venanzio Rauzzini Award – in the Mozart Concorso di Canto – L'Europa Invita I Giovani Cantanti del Mondo (a vocal competition held in 1990 under the auspices of UNESCO in Vienna to mark the bicentenary of Mozart's death) and the 2nd prize in the International Vocal Competition in 's-Hertogenbosch (1991).
Artur Stefanowicz focuses on 17th– and 18th-century opera. His impressive Handel repertoire includes title parts in Orlando (Budapest Chamber Orchestra) and Tamerlano (Komische Oper in Berlin), as well as the roles of Tolomeo in Giulio Cesare (Opera in Dublin), Unulfo in Rodelinda (Opernhaus in Halle), Arsameme in Serse (English National Opera), Polinesso in Ariodante (Nationale Reisopera in Enschede), Arcane in Teseo (Bayreuther Barock Festival) and Didymus in the oratorio Theodora (Teatro Liceo in Salamanca and Teatro Arriaga in Bilbao). In Warsaw Chamber Opera, Stefanowicz sang the title parts in Mozart's Ascanio in Alba (also – in the Parisian Opera Comique) and Apollo et Hyacinthus, as well as Farnace in Mitridate, re di Ponto. Among his other major creations, one should mention: Ottone in Monteverdi's L'incoronazione di Poppea (De Nederlandse Opera, Florida Grand Opera), Ottone in A. Scarlatti's La Griselda (Théâtre des Champs Elysées), Orfeo in Gluck's Orfeo ed Euridice (English National Opera, New York City Opera), Prince Orlofsky in J. Strauss's Die Fledermaus (at the Seefestspiele Mörbisch, a performance recorded and released on CD by BMG/Arte Nova Classics), and Baba the Turk in Stravinsky's The Rake's Progress (De Nederlandse Opera). In 2009 Artur Stefanowicz made a successful debut as a theatre director, staging Handel's Giulio Cesare in the Grand Theatre in Łódź.
Since 1991, the counter-tenor has performed with such well known ensembles as: Akademie für Alte Musik from Berlin, Concerto Italiano, Les Arts Florissants, Musica Aeterna, Combattimento Consort from Amsterdam and the Netherlands Wind Ensemble, as well as orchestras: Berliner Symphoniker, Orchestra of the Age of Enlightenment and the Orchestra of Teatro La Fenice, appearing on concert and opera stages with such eminent artists as Rinaldo Alessandrini, Rudolf Bibl, Harry Bicket, Andrey Boreyko, William Christie, Christophe Coin, Noel Davies, Philippe Entremont, Roy Goodman, Leopold Hager, René Jacobs, Sir Charles Mackerras, Philip Pickett, Gennady Rozhdestvensky, and Massimo Zanetti. He has frequently sung at such prestigious European festivals as Festival van Vlaanderen, Wratislavia Cantans, Festwochen der Alten Musik in Innsbruck, Händel-Festspiele in Halle, festivals in Glyndebourne, London, Aix-en-Provence, Montreux-Vevey, Zurich, and others. He was a guest star in the Théâtre du Châtelet in Paris, Opéra National du Rhin in Strasbourg, Deutsche Staatsoper in Berlin, the Opera in Marseilles, Royal Festival Hall in London and the Concertgebouw in Amsterdam.
The artist has recorded extensively for the Polish Radio as well as for record companies. His discography includes: Mozart arias with the Sinfonia Varsovia under Karol Teutsch (Polskie Nagrania), Pergolesi's and Vivaldi's Stabat Mater with Concerto Avenna – The Warsaw Soloists (POLmusic, Elysium Records), Monteverdi's Vespro della Beata Vergine with Les Arts Florissants under William Christie (Erato), Bach's and Schütz's cantatas with Collegium Instrumentale Brugense under Patrick Peire (Eufoda), Vivaldi's and Handel's cantatas (live for Koch Classics) as well as the title part in Vivaldi's recently rediscovered opera Il Tigrane (Hungaroton). Artur Stefanowicz also appeared in a performance of Rodelinda at the Glyndebourne Opera Festival, recorded and released on DVD by Warner Music Vision (2005).
Artur Stefanowicz is a lecturer in the Fryderyk Chopin University of Music in Warsaw.